Image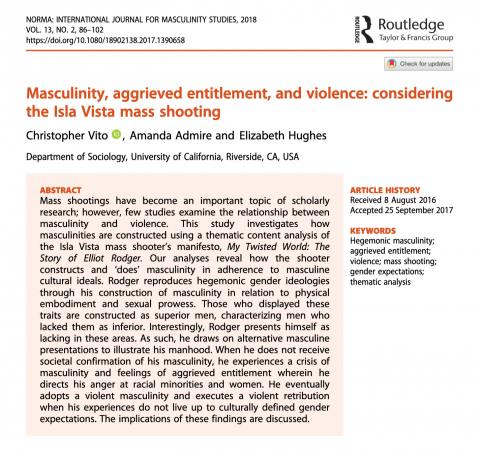 What are the links between mass shootings and masculinity? This XY collection brings together news commentaries on how individual men's perpetration of mass shootings is shaped by particular norms and behaviours associated with patriarchal masculinity. Items include commentary on incidents that took place in:
Orlando, 2016;

Las Vegas, June 2017;

Florida, February 2018;

Nova Scotia, April 2020
XY's collection "Guns, violence, and masculinity" complements this. It summarises research on the links between gun availability or ownership and gun violence, and it compiles research highlighting how gun violence is structured in powerful ways by traditional, patriarchal masculinities.
(a) News articles and commentaries
(b) Journal articles
Farr, K. (2018). Adolescent rampage school shootings: Responses to failing masculinity performances by already-troubled boys. Gender Issues, 35(2), 73-97.
Kennedy-Kollar, D., & Charles, C. (2013). Hegemonic masculinity and mass murderers in the United States. Southwest Journal of Criminal Justice, 8(2).
Vito, C., Admire, A., & Hughes, E. (2018). Masculinity, aggrieved entitlement, and violence: considering the Isla Vista mass shooting. NORMA, 13(2), 86-102.
Also see: