Image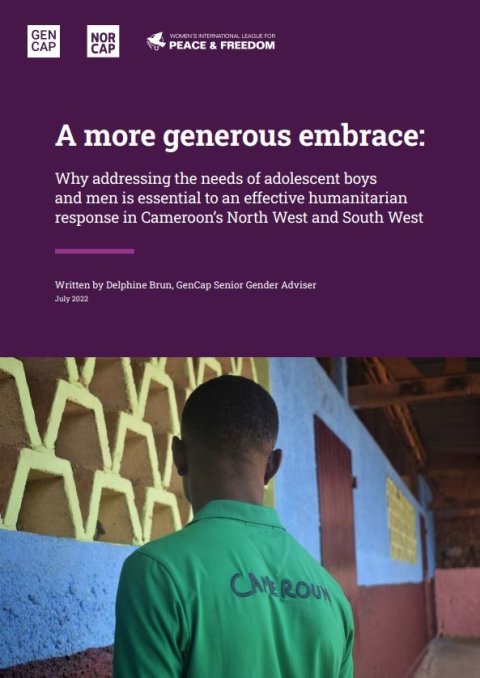 A new report entitled, 'A More Generous Embrace' from the Women's International League for Peace and Freedom (WILPF), GenCap and NORCAP explores how, when men are affected by armed violence, women and girls are also indirectly or directly victimized.
How have men's identities and gender roles shifted in Cameroon as a result of the violence and humanitarian crisis ongoing in the North West and South West regions? The report highlights the specific protection risks affecting adolescent boys and men and how this affects their economic and psychological wellbeing. It reflects on the intersectionality of their struggles and the effects that this has on girls and women, as well as the society at large.
The analysis also explores how the perceptions, attitudes and modus operandi of humanitarian actors shape the way in which adolescent boys and men's assistance and protection needs are understood and are addressed. The consequences of neglecting their needs are not just potentially disastrous to them but also puts women and girls at additional risks and affects, indirectly,  the security, resilience and cohesion of the broader society. While addressing violations against women and girls should remain a priority, it is crucial to pay greater attention to how the crises have an impact on adolescent boys and men too.
Humanitarian organisations and donors must expand their vision of who the people in need are. They should ground their response on contextual evidence rather than on preconceived ideas of who's most affected. Understanding how the lives of men, women, girls and boys interact and how their realities affect each other will help develop responses that are truly evidence-based and that are commensurate to the needs of all members of society.
The report can be found at: https://www.wilpf.org/mmffp_documents/a-more-generous-embrace/