Image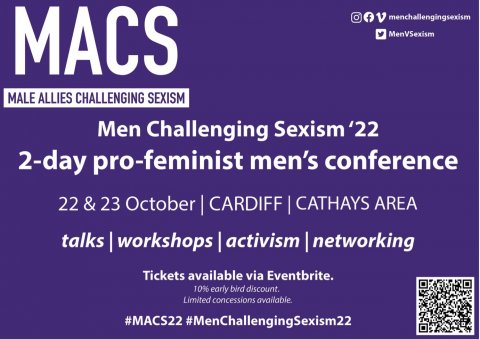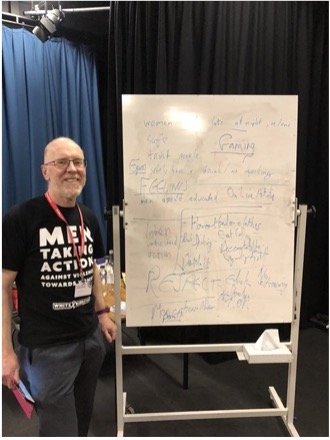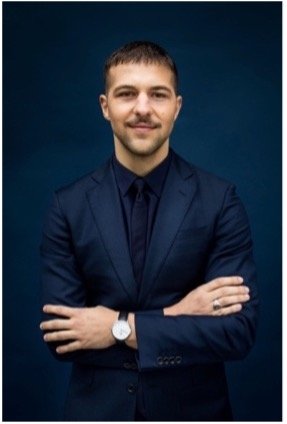 On 22 and 23 October 2022, Male Allies Challenging Sexism (MACS) is hosting what it believes to be the first face-to-face pro-feminist men's conference in the UK for 30 years. The event in Cardiff will feature an international line-up of pro-feminist speakers, and all proceeds from ticket sales will be donated to women's organisations. The organisers aim to inspire a new wave of pro-feminist activism and are asking all men and boys to join them for this historic event at a time when the fight against sexism is perhaps more urgent than ever.
Chris, co-founder of MACS, has been actively involved in pro-feminist work and activism for over 40 years. In the late 1970s and early 1980s he attended a number of men's conferences in the UK, including an Anti-Sexist Men's Conference with about 30 other men in 1979. There were over 30 workshops, including one on the pro-feminist men's movement and one on how to improve the circulation of magazines such as Achilles Heel and Men for Change. The following year, a similar conference took place in Bath, UK, with workshop topics including Vasectomy, Rape, Androgyny, The Goddess, Men against Sexism Goes Public, Jewish Men, Homophobia, Anti-Sexist Drama and many more.
Chris recollects that 'at this time and sporadically for about 10 years before and for the next 10 years, there was enough men's anti-sexist activism to justify talk of a movement. A magazine for anti-sexist men, called Achilles Heel, was produced three times a year and an anti-sexist men's newsletter appeared more frequently. At this time, there were also groups of men supplying crèches to organisations, looking at contraceptive alternatives, fundraising for women's organisations and challenging pornography and street harassment, as well as a lot of small local consciousness raising groups'.
There have been some conferences since the 1990s referencing men and sexism by title, but these often appear to focus on talking about the issues rather than taking action (e.g. sending a letter objecting to a SEV licence, let alone picketing a porn shop or organising a pro-abortion demo). There have also been some Council of Europe events on 'The Role of Men in Challenging Sexism', and in the USA the National Organisation of Men against Sexism continues to organise an annual conference. For individual men wanting to challenge sexism, however, there has been very little, especially in the UK.
'It's way past time we started doing this again' – Chris Green
Björn (co-founder of MACS) first met Chris about 15 years ago at a Feminism in London Conference. There were only a handful of men in attendance and whilst Björn did end up contributing to a couple of workshops and panels at subsequent feminist conferences, the pool of pro-feminist men was small and unstable. Chris was the only man that was always there. In early 2021, Chris and Björn met up and after discussing the dearth of men's collective activism in the UK, decided to organise the Engage Conference later that year. The majority of the conference took place online, although protests against male violence against women and girls were also organised at Manchester Crown Court and the Royal Courts of London. They hoped the conference would be a catalyst for the rebirth of the men's pro-feminist movement.
MACS builds on the work of the pro-feminist men's movement from the 1970s to the 1990s, with an on-going open Book Group, a yearly Conference co-ordinated to coincide with FiLiA, fundraising for women's organisations, protesting against sexist institutions (e.g. courts, lap dancing clubs, sexist restaurants such as Hooters), as well as looking at changing our own lives and our sexist attitudes and behaviours.
Björn is excited about the programme and uplifted by the response from men so far: 'We're still working out some of the finer details but are really excited about what we've confirmed so far. Chris, who has been involved in anti-sexist and pro-feminist work for about as long as I have been alive, is an essential driving force in our organisation and I can't wait to hear his talk at the Men Challenging Sexism Conference 2022. I am equally excited that Daniel Principe of Collective Shout, a grassroots campaigns movement against the objectification of women and the sexualisation of girls, is travelling all the way from Australia to take part in and contribute to the conference.'
Daniel engages thousands of men and boys, empowering them to challenge porn culture. We will all be able to learn a lot from his work, which challenges men and boys' attitudes but also promotes a liberating message, encouraging men and boys to aspire to relationships built on mutual respect. Being able to host international guests at our conference is simply amazing, as is the fact that we've grown from a two-person outfit to a group of eight dedicated volunteers in less than a year. I still can't really believe it! It really does give me hope and makes me feel positive to know that there are men out there who are wanting to effect some real change!'.
Tickets to the two-day conference are available via Eventbrite now. Book before 22 August for an early-bird discount!
More talks, speakers and workshops will be announced soon, so keep an eye on MACS' Twitter and join the event on Facebook. If you have any questions or would like to get involved, please email allies@menchallengingsexism.org.uk.