Image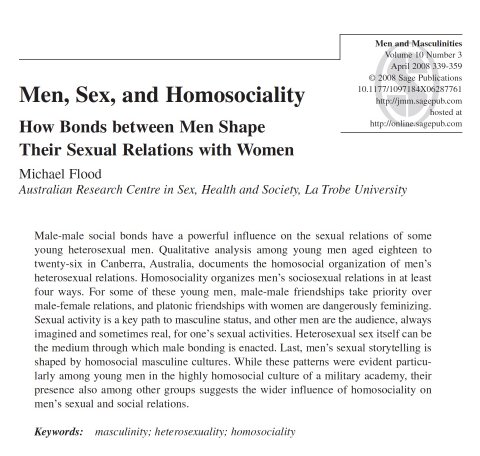 Male-male social bonds have a powerful influence on the sexual relations of some young heterosexual men. Qualitative analysis among young men aged eighteen to twenty-six in Canberra, Australia, documents the homosocial organization of men's heterosexual relations. Homosociality organizes men's sociosexual relations in at least four ways. For some of these young men, male-male friendships take priority over male-female relations, and platonic friendships with women are dangerously feminizing. Sexual activity is a key path to masculine status, and other men are the audience, always imagined and sometimes real, for one's sexual activities. Heterosexual sex itself can be the medium through which male bonding is enacted. Last, men's sexual storytelling is shaped by homosocial masculine cultures. While these patterns were evident particularly among young men in the highly homosocial culture of a military academy, their presence also among other groups suggests the wider influence of homosociality on men's sexual and social relations.
Citation: Flood, M. (2008) Men, Sex, and Homosociality: How bonds between men shape their sexual relations with women. Men and Masculinities, 10(3), April: 339-359.
Please see below for the full article, in PDF.