Image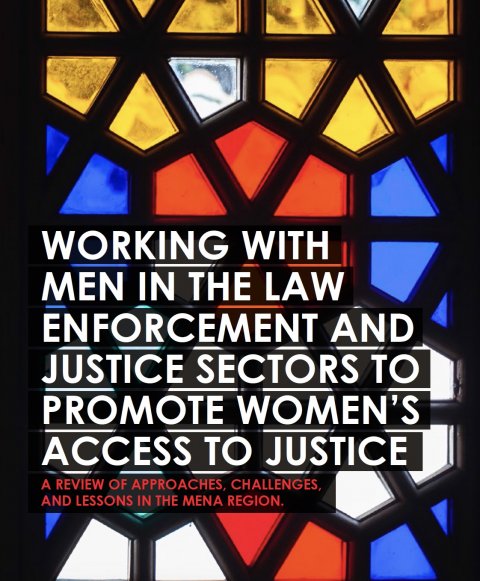 There has been much progress in gender justice becoming a main advocacy point on a global level. Yet, gender inequality continues to be present and cross-cutting in various aspects of life, and continues to negatively affect people's lives in various ways, especially women and girls. Many programs in the past decade have considered the importance of engaging men and boys in gender justice as means to address gender inequality, and have thus begun designing and implementing initiatives with this methodology. Moreover, and due to the central role that law plays in fostering gender equality, several gender transformative approaches have been used in the judiciary systems and law enforcement, as they are key players in the process of seeking justice.
The Middle East and North Africa (MENA) region has undergone in the past years a wave of political instability that has left many countries in transitional phases witnessing an increase in policing following some political unrest and calls for reform. This gave room for programs aimed at increasing gender sensitivity in law enforcement and judiciary systems to arise as means to attain gender justice for women and girls in conflict and post-conflict settings.
To this day, little knowledge is produced in relation to the type of programming in the MENA that is aimed at achieving gender justice through engaging with men and boys within law enforcement and justice system. This assessment aims to address this gap by documenting such initiatives in the region, through conducting a desk review of different portals (including both academic and nonacademic platforms) of the different literature as well as of the existing programs that tackle gender justice in relation to law enforcement and judiciary systems within the MENA region. Using this methodology, a total of 13 organizations fit the inclusion criteria and agreed to take part in the survey. These organizations operate in 7 countries (Egypt, Jordan, Lebanon, Morocco, Occupied Palestinian Territories, Tunisia, and Yemen) across the MENA region.
The outcomes of this assessment demonstrate that multiple approaches were used throughout 7 different countries in the MENA region aimed at engaging men and boys in achieving gender justice, specifically in projects related to law enforcement or judiciary systems. However, these different approaches were all operated within at least one of the following modalities of intervention: 1. Sensitization and capacity building; 2. Institutionalization efforts with relevant stakeholders; 3. Advocacy and policy reform; and 4. Knowledge production.  
Download the report at http://www.abaadmena.org/documents/ebook.1528796781.pdf
Citation:
ABAAD. (2018). Working with men in the law enforcement  and justice sectors to promote women's access to justice a review of approaches, challenges, and lessons in the MENA region. Lebanon: ABAAD.