Image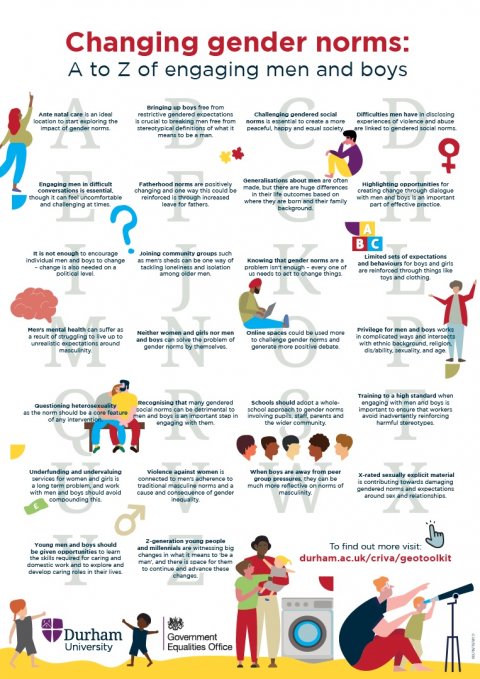 Masculine gender norms substantially shape the lives of men and boys in a range of different ways. This UK report and toolkit consolidate existing knowledge from both research and practitioner experience, to provide an in-depth exploration of how to engage with men and boys to address social norms connected to masculinity and challenge and change harmful gender stereotypes. It was completed in October 2019 and has recently been published by the UK Government Equalities Office. The project involved a rapid evidence assessment of relevant literature, 17 key-informant interviews, and an online survey of 143 practitioners' views, as well as advice from an NGO expert panel. It was carried out by Dr Stephen Burrell, Sandy Ruxton, and Professor Nicole Westmarland (Durham University).
Gendered social norms can be understood as the implicit and informal rules of behaviour which are expected of women (i.e. what is seen as being 'feminine') and men (i.e. what is defined as being 'masculine'), which are shared by members of a group or society and which they generally accept and abide by. They play a significant role in reproducing gender inequality. The research highlights that the UK has seen important shifts in gender norms in recent decades, for example towards more involved fatherhood and increased LGBTQ+ rights. However, these shifts often appear to reflect changes in what it means to be a man, rather than a reduction in the need to conform to specific ideas of masculinity altogether. Furthermore, changes in normative perceptions do not necessarily equate to changes in behaviour. For instance, women are still carrying out the bulk of childcare and housework despite now playing a significant role in the labour market. In addition, changes in gendered social norms do not inevitably move in a linear direction, as the increasing normalisation of pornography in the lives of men and boys illustrates.
Gendered social norms thus continue to have a range of detrimental impacts on men and boys and the people around them. For instance, the research illustrated that the constraints imposed by masculine expectations have a harmful effect on men's health and wellbeing, and play a fundamental role in violence against women and girls. However, it also underscored the importance of an intersectional approach to understanding and engaging with masculine norms. It can be easy to make generalisations about their impacts and assume that men and boys are a homogenous group, when there are huge variations among them based on factors including age, location, race and ethnicity, social class, disability, and sexuality. This means that there are significant power differentials among men and boys and between different constructions of masculinity, as well as between men and women, and it is crucial to take these into account to make sure that work with men and boys is relevant to the diverse contexts in which they live their lives.
The research demonstrates that there is an urgent need for more gender-transformative engagement with men and boys from an early age and at key points across the life course. This should not just include programmes and campaigns specifically addressing gender norms - rather, an understanding of the need to transform these norms should be embedded in all of the work that we do, especially when working directly with men and boys. In order to have long-term, sustainable impacts, this work should be multifaceted, across the different levels of society. It is not enough to encourage change among individual men and boys if wider society is not changing with them. Shifting gendered social norms requires organisational, community, institutional and structural change towards gender equality as well as transformations among individuals and peers. This also means that there are things that we can all be doing, every day, to help change unhealthy gendered social norms and build a more equal society.